Originally coming from Indonesia, she has been living in the Netherlands for the past few years. Currently she is working on her Graduation project planned to result in two theses for both her Bachelors in Communication Management and International Business and Management Studies. Her field of interest: Fundraising in the non-profit sector. Her object of investigation: Citizens of Europe. Chryssa Thanella talked to our current intern Alicia Tri Utami. 
How did you get to know Citizens of Europe? I discovered Citizens of Europe quite by accident actually. I was just browsing in the internet on topic regarding EU citizenship and then I found Citizens of Europe's website. I was interested and I immediately made contact to explore the possibility of doing my graduation project at Citizens of Europe. I was pleasantly surprised to receive quick and positive reply. 
How do you like our organisation so far? What do you think about our projects? I am very excited to work with everybody within the organization, especially because the people are rather differs in their background, ideas, and constituency. But everybody I met so far has been supportive and helpful. What interests me most about the organisation is the active practical approach that is pursued from different angle through its diverse programmes. Therefore, the sense of active citizenship engagement can be tailored to individual preference. 
I think behind every problem there is a hidden potential.
Was something surprising for you or you found more or less what you were expecting here? Of course hardly anything stays perfect and shiny once you have a closer look. After a period of interacting with the team and analysing the organisation, obviously I found problems. Which I find exciting! I think behind every problem there is a hidden potential. 
What about your project? Could you give me a short description what is it about and what are your aims? The topic that I chose for my graduation project is regarding Fundraising within the Non-Profit Organization, focusing mainly on how a formulation of fundraising strategy affects the internal and operational side of an organisation and how to best integrate fundraising into an organisation for the best result. Therefore, the focus is more in fundraising as a process than an activity. 
Do you face any difficulties so far? I find it hard not to get personally involved with the organisation, which makes it hard to sustain an objective view sometimes. But this also motivates me to give my best to the project as I believe in the cause of Citizens of Europe. Moreover, the hardest thing in carrying out my project is to balance my view between the theory and the reality. It is nice to apply models and frameworks from text book that you learn from your education, but it is also important to see how those theories can really contribute to the reality of what needs to be done here and now.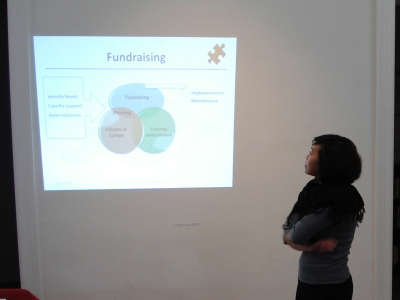 What are the highlights of your internship so far? I had the opportunity to participate in the Spring Council Meeting on March 2009 in Berlin. I was able to meet with active members, Programme Coordinators as well as the Board. It was exciting to witness the interaction of the different fractions of the organisation and be a part of it. I was also happy to be given the chance to introduce myself and my project before the team. 
What about your future plans? My main objective at the moment is to get my Bachelor degrees. I am currently researching for possibilities in either pursuing a Master degree or finding a job placement.