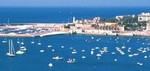 From Berlin, where everything started, to Poland and then to Portugal, the project "ComicYouth!" seems to enjoy travelling and telling its story to other curious people around Europe. On the 30th of January 2010 a new exhibition of the Comics book and its making of process has been organized by the Portuguese group. Once again multicultural atmosphere and creativity entered stage. The event hosted by Rota Jovem was enriched by an experimental cooking night taking place at the same time and recycling material was used as decoration for the original drawings´ display. Visitors showed curiosity both for the artistic production and for the experience of the Youth Exchange itself.
"We really enjoyed expressing ourselves in a creative way using arts and non formal education as a vehicle, putting our own ideas and imagination on paper

Celia Miguel, the Portuguese team leader, explaining why the Youth exchange reached its goal
And now, which country would be the next?