ADVIT Moldova is looking for 1 motivated and patient volunteer from Germany to help disabled children and obtain a valuable experience helping those in need and developing his/her personal skills.
DEADLINE: ongoing
LOCATION: Chisinau, Moldova
DURATION: 1 year
START DATE: Winter 2017/2018(date negotiable)
About the organisation:
The Association for disabled children and social inclusion "Atentie" Moldova is a non-profit association founded in 2004 and is a social services provider. Our beneficiaries are children with disabilities and vulnerable children. Our guiding work principles are knowledge transfer, capacity development and social inclusion of children with special necessities and their families. Our main activities are based on psychological recovery, speech therapy, pedagogy, music therapy and primary medical assistance.The ATENTIE NGO has a team composed by 7 people: 1 psychologist, 2 teachers, 1 physiotherapist, 1 nurse, 1 speech therapist, 1 Manager, 1 driver. Manager is responsible for the administrative works. Our manager have an extensive experience in child protection and care, responsible for overall management of the Association, is responsible for all administrative issues related to registration of the correspondence, management of the agendas etc. In order to obtain our goals and improve the capacity and abilities of children our organisation has very professional specialists. Our teachers and psychologist ensure all children a better place for the development and provide them with all social facilities. The nurse ensures the medical assistance and access to medical assistance for our children and their parents. Our physiotherapist help children to overcome a range of psychological and emotional issues.
The main responsibilities of the volunteer:
– Working with disabled children, go on walk with them etc.
– Participate with all the staff in organizing every week the sanitary day, when are cleaned all offices and spaces for children
– assist during language courses (only the candidates that can prove these capacity)
– Assists the educators and teachers in organizing and facilitation of day-to-day activities with children (games, visits in the city, hygiene, educational activities, etc.) – available only for the candidates that can prove these capabilities;
– Networking with children from our center;
– Paper work: translation of documents, elaboration of small reports and researches about profiles of beneficiaries.
The volunteer is expected to bring his/her creativity, project ideas, experience in, for example, arts and cultural expressions and/or sports and games to work and participate, support and lead different kind of projects that is developed at our centre. The volunteer will bring his/her experiences from another culture and the process of getting familiar with Moldovan society to the everyday work and life.
Recruitment requirements:
The beneficiaries of the association are vulnerable people: adults and children. Working with them, imply a lot of patience, tolerance, knowledge and professionalism.
It is very important for the future volunteer to be:
1) to be very patient to disabled children;
2) eager to work with people from a multicultural environment, of different backgrounds, religions and ethnicity;
3) dedicated to the work that has to be done;
4) punctual and responsible.
About ADVIT – Contact Point:
ADVIT is the Contact Point Organization that coordinates volunteers in different Hosting Organizations. During the volunteer's stay in Moldova, ADVIT takes care of the administrational tasks connected to living abroad and helps with many specific or unforeseen situations. ADVIT will take care of the following aspects for the volunteer stay: accommodation in a host family or a volunteer's flat with shared kitchen, toilet and bathroom, where each volunteer will have his/ her own room; pocket money; food money; transport money; language lessons, mentor; meeting the volunteer at the airport; on-arrival meeting; communication with sending and hosting organizations; any issue that the volunteer has to deal during his/her stay abroad, temporary residence permit matters.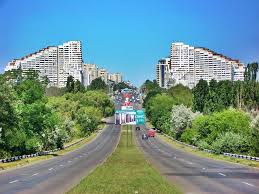 About the city – Chisinau:
The Association office is based in the capital city of the Republic of Moldova. Chisinau is Moldova's main industrial and commercial center, and is located in the center of the country. In the center of the city there are based all-important administrative and political institutions (the Parliament, Government, etc.), The population of Chisinau municipality counts around 800 000 inhabitants. Though the country's official language is Romanian, Russian is also omnipresent, due to the fact that Moldova used to be part of the former Soviet Union. With a basic knowledge in either Romanian or Russian, it's possible to get along quite well. Contrary to the relatively poor rural area and despite the partly still visible Soviet past, Chisinau gives you the feel of living in a decent city with everything needed and appreciated in daily life: You'll find modern supermarkets and malls, cafes, bars, restaurants, discos and parks. Furthermore, the public transport works very well.
Send your CV and a short motivation letter describing your involvement with vulnerable groups to ADVIT Moldova: advit_ewb@yahoo.com.
For more information please contact ADVIT Moldova as well: advit_ewb@yahoo.com