For professionally motivated young people we suggest an EVS in Poland at CASE – Center for Social and Economic Research
DEADLINE: 20th of September
LOCATION: Warsaw, Poland
DURATION: 1 year
START DATE: will be arranged with a volunteer
CASE is an independent non-profit economic and public policy research institution founded on the idea that evidence-based policy making is vital to the economic welfare of societies. CASE has been ranked the number one think tank in Central East Europe, according to the University of Pennsylvania Global Go To Think Tank Index Report for 2016. CASE wants to contribute to new debates facing Europe, including the economic impact of climate change mitigation policies and the economics of energy policy by focusing on these branches:
European Neighbourhood Policy, enlargement, trade and economic integration,
labour markets, human capital and social policy,
innovation, competitiveness and entrepreneurship,
reforms, growth and poverty reduction in developing and transition countries,
macroeconomics and public finance.
The ideal volunteer is an open-minded and enthusiastic 18-25 y.o. person, eager to learn new skills, with good personal initiative and able to work with other young people in an international and multicultural environment. The volunteer should also have a strong interest in the functioning and activities of CASE and, more in general, NGOs operating on a European level for and with the European civil society.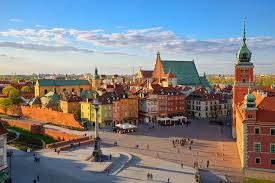 The volunteers will mainly be involved in the preparation of project proposals, will support the management of active project and will manage some project on their own, will take care of and support the communication within CASE as well as with all its present and future partners and other stakeholders. The volunteers will also be strongly encouraged to propose their own ideas, projects and undertake any research activity in line with CASE mission. Previous knowledge of communication strategies or project management is, however, not necessary as a specific training will be provided on these issues at the beginning and throughout the EVS experience.
Volunteer will work at CASE office (address: Aleja Jana Pawła II 61/212, 01-031 Warsaw) and live in a 2-room apartment with another volunteer. CASE will cover monthly city transport tickets. Volunteer will get 85 euros individual support and 110 euros pocket money. During the whole period of the stay volunteer will learn Polish language. Travel expences will be covered with a limit of 275 euros (round trip).
More info about CASE at their website: www.case-research.eu
More info about EVS here: http://europa.eu/youth/eu/article/46/73_en
Send your CV and a short paragraph about your motivation to volunteer at a economic and public policy research center (in English) to office@citizens-of-europe.eu. Based on the applications the candidates will be invited to have a Skype call with CASE representatives. For more information contact: office@citizens-of-europe.eu.