The Training Course on Transcultural Understanding took place 16-22.08.09 in Berlin. 24 participants from 6 countries came together in order to exchange perspectives of youth work and intercultural learning and debate the utility of the transcultural learning concept for their local work. Our partner Friedenskreis Halle e.V. is one of the strongest playing actors in the field in Germany. Its workgroup Transkulturelle Kompetenz – eine aktuelle Schlüsselqualifikation supported the realization of this activity.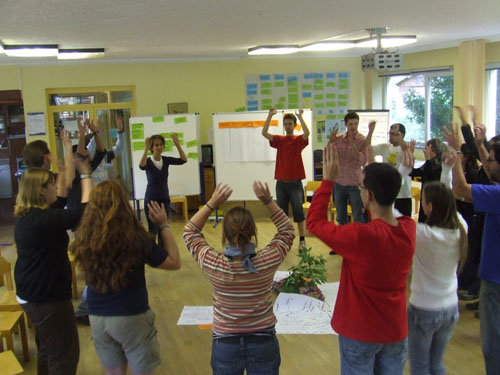 Transnationality being one of the core stones of Citizens of Europe worldview, it was very interesting to explore possible ways of promoting a learning process based on extended concepts of identity that focus beyond nationality and ethnicity. Exploring new frames for cultural clustering seemed very interesting, although the task was not easy.The TC can be better described through hot debates among participants, on such topics as definitions of culture, political dimension of transculturality and the need for the concept for a successful intercultural work.
It was fun to see rakı being presented not as a Turkish, Bulgarian, Greek or Albanian drink, but rather as a drink from the region and not originally from this or that country.
The abanico, or hand fan, is a very transcultural element and it has a very interesting story. It came from Egypt to China and Japan, and than to Europe. During the 17th and 18th century it was very popular all over Europe and its use created a funny secret code of messages and way of communicating.
What about the Sour cabbage or Sauerkraut? Amazing! Named in different ways – from chucrut to zuurkool – it can be found in diets in different countries, from Slovakia to Chile, or from Bulgaria to Latvia.