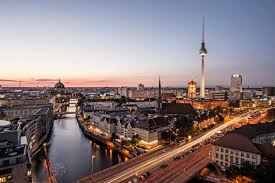 Citizens of Europe e.V. exists thanks to the voluntary commitment of its European members. As some of them come directly from an EVS experience, we would like to offer young people the opportunity to experience on a daily basis what active European citizenship actually implies and at the same time to facilitate a personal and professional growth process by working at the Berlin based NGO, which proactively handles these issues in diverse fields of actions.
What role will you play?
– assist in European projects (strategic partnerships, trainings, study visits, meetings etc.)
– take part in organising the "My Europe" Film Festival
– contribute to Citizens' online presence (managing websites, newsletters and social media content)
– act as a main contact for all communication activities, requests and event attendances
– proactively seek and conduct direct communication with partners, external stakeholders and networking contacts during various events in Berlin. Affinity for attendance at events where Citizens' as an organisation can be presented.
– keep track of all the upcoming promotional needs for Citizens
– manage the office together with the staff members
What do we require from you:
– between 21-30 y.o.
– no previous participation in a long-term activity supported by Erasmus+
– fluency in English, verbal and written
– knowledge of German is welcome, but not a must
– pro-active position and ability to collaborate, be creative, resourceful, problem-solving, follow-through and work independently
– solid experience in all social media platforms and technologies
– Extremely strong communication, presentation and interpersonal skills
– a passion for the social technology world
– previous project management experience is appreciated
– interest in European issues and civil society projects
– collaborative and fun personality
Nice-to-haves:
– Adobe Creative Suite software knowledge (Illustrator, Photoshop, InDesign)
– Experience in PR work
Practical arrangements:
– 12-month program starting in June/July 2018
– 4-day 35-hour work week
– monthly allowance as a contribution to accommodation, food, pocket money (545 Euro)
– 12-month public transport pass
– reimbursement of travel expenses to and from Berlin (max. 275 Euro)
– German language course
– health insurance by Cigna
– 2 EVS trainings in Germany
– 2 days off per month (can be accumulated in 24 days off in a year)
– support of a coordinator and a mentor – YouthPass at the end of the EVS
Opportunities:
– implementing his/her own project
– experiencing work in transnational projects with partners all around Europe
– perfecting teamwork and shared responsibilities
– strengthening communication competencies and soft skills
– intercultural environment
– contributing to sustainable development of communities
– establishing new contacts
– educating him-/herself on European democracy and active citizenship
– personal and professional growth, raising adaptability and facing new challenges
TO APPLY send your CV and a short motivation letter specifying your experience managing (or participating in) active citizenship projects.
Please, send your CVs and motivation to office@citizens-of-europe.eu.
Deadline: June 30th, 2018.
Shortlisted candidates will be invited for a Skype call with Citizens of Europe representatives.