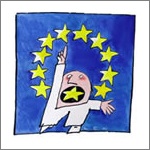 Due to the tireless efforts of many citizens, officials and politicians, much progress has been made toward developing a citizen-friendly regulation for the European Citizens' Initiative (ECI). The European Parliament's AFCO and PETI committees are currently debating amendments to the ECI regulation proposed by the European Commission and modified by the Council.Three major and potentially fatal barriers remain:
The European Commission's required follow-up to a successful ECI has still not been clarified in the regulation. Specifically, there is no mandatory public hearing.
Each Member State can decide which personal data to collect and how to verify signatures (Most still require citizens signing an ECI to provide ID card numbers)
The time limit to collect 1 million signatures remains an insufficient 12 months.
A draft report on the ECI will be discussed in these two committees on 8-9 November 2010. A final vote will be taken by the entire European Parliament on 13 December 2010. Given the vital role of the European Parliament at this important moment, we strongly urge you to contact MEPs from your country on the AFCO and PETI committees NOW to save the ECI. Here are resources to help you:
At this critical time, we need the support of as many people as possible to save the ECI. So please distribute this information widely! If you have questions contact Carsten Berg, ECI Campaign Director T: +49-1764-3064365 berg@democracy-international.org The ECI campaign website you find here…